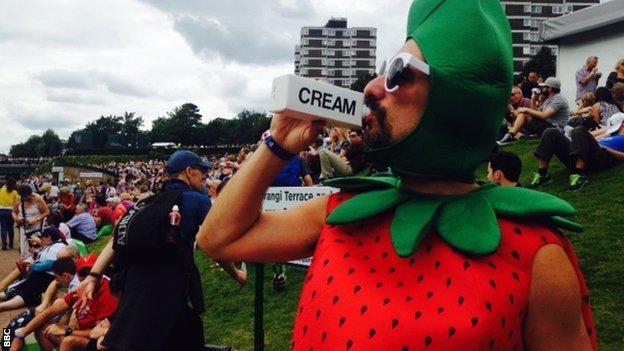 By this time next week, we'll have several new Wimbledon Tennis champions. But they won't be the only winners; a whole host of others will be counting their winnings too, from taxi drivers to restaurant owners, and not forgetting the strawberry growers – who'll have supplied the 112,000 punnets of strawberries that get eaten during the course of the tournament.
Over half a million people will have travelled to the Wimbledon Lawn Tennis Club, situated in a leafy suburb in the South West of London and the last stop on the District Line. The annual Wimbledon Tennis tournament is a uniquely British affair and one that we can be rightly proud of. A mixture of sporting drama, quaint customs and military efficiency, the annual tournament is held up around the world as an example of what the Brits can do if they put their mind to it.
The players will naturally grab the headlines regarding their winnings as the winner of the men's and women's singles final will each receive an eye-popping £2 million. But a whole army of people associated with the annual event will consider themselves flush too.
As well as the strawberries, tournament visitors will have knocked back 50,000 glasses of Pimm's and 17,000 bottles of champagne. The towel manufacturers won't be too unhappy that 2,500 towels 'disappear' from the players' locker rooms during the tournament, each one costs £29 to replace (retail value).
The ball manufacturers will be counting their blessing too, the tournament organisers order 53,000 of them and expect to get through 50,000. The rest are sold to the general public at £3 for a can of three balls.
And lets not forget the uniform suppliers, they'll have kitted out the 350 match officials in their matching kits.
Rufus the Hawk may not be too happy though. He's up in the sky each morning from 5.00am to 9.00am scaring off pigeons. Unfortunately, he's not allowed to catch them and his weight is closely monitored for the entire two weeks. His optimum weight (for chasing pigeons) is 1lb 6oz. Any heavier and he can't be bothered to fly.
After eating a hot roast ('slow cooked pork in Artisan Focaccia Romana bread' and yours for only £7.30) we know exactly how he feels.