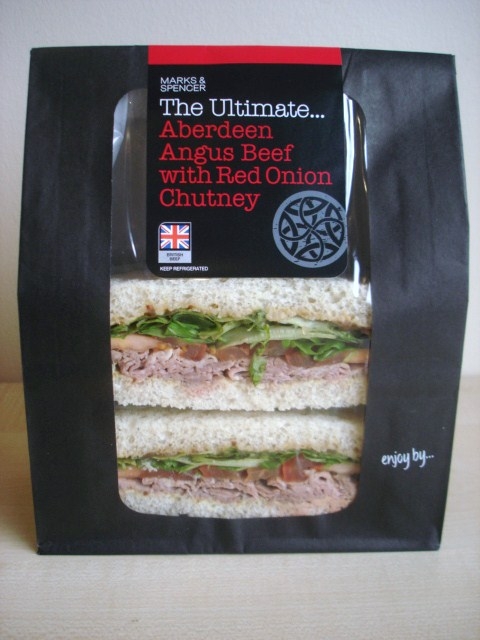 The old saying, 'there's no such thing as a free lunch' is sadly now true for BA passengers. At least for those planning on taking a short haul flight next year. Because BA recently announced that, as from January, it will no longer offer free food and will instead charge for any food provided.
From 2017, a sandwich bought in BA's economy class will cost up to £4.95. Which sounds expensive compared with a £3 'Meal Deal' from Tesco (which includes a drink and an accompanying snack) but then there aren't any Tesco outlets in either Gatwick or Heathrow, which are the two airports from which BA will operate its new food policy.
The BA sandwiches will also be provided by Marks and Spencer, so although a tad expensive, it will give passengers the option to order some pretty high quality 'fare', including its famous Aberdeen Angus beef and red onion chutney bloomer.
It's perhaps not surprising that BA chose Marks and Sparks as its sandwich supplier. Both companies are long established, popular British brands which emphasise quality and service. And both brands have been rather caught out by their customers' changing their tastes and attitudes, deserting them in favour of, respectively, EasyJet and Primark.
Alex Cruz, the airline's newish CEO explained that the decision was made because passengers have "told us we are experts in flying and service, but when it comes to catering on short-haul flights, they want to choose from a wider range of premium products." In other words, the bacon sandwich and complimentary drink offered by BA no longer cut the mustard (so to speak).
The airline was probably also aware that, before boarding their flights at either Gatwick or Heathrow, passengers had to walk past literally dozens of food outlets now operating in the terminals. These outlets, as well as other retailers such as WH Smith and Boots, offered passengers the chance either fill their stomachs before boarding or fill their carry-on bags so as to eat whilst in-flight.
And in many senses, trying to feed a plane-load of passengers during a 40 minute flight represented a tall order, particularly for the air crew whose primary purpose on board is to safeguard passenger safety.
Naturally, the decision represents a significant cost saving for the airline which can now be passed on to the passengers in the form of lower air fares. Well, not exactly. In fact, the airline is not planning anything like that.
And naturally, this decision does not apply to passengers in its Club Europe class who can continue to expect to hear the welcome clink of crockery and the welcome smell of freshly cooked bacon. Some things never change.