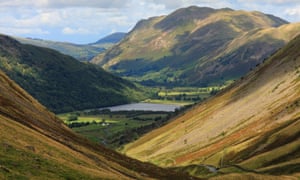 Eco tourism is now big business. As is medical tourism and, in the future, probably space tourism.  But an unlikely tourism sector that's received a boost recently is literary tourism. It's not as high brow as many think and recent moves by several UK tourist bodies could see it growing even more.
Numerous visitors make the well trodden trip (pilgrimage?) to Yorkshire's Brontë Land, where they can visit all the places which gave Charlotte Brontë the inspiration for so many of her novels. But that inspiration has now crossed over the Pennines to Cumbria which has just announced a new app to help visitors navigate around locations that were inspirational to their most famous son, William Wordsworth.
Using a new online guide, visitors can explore the Kirkstone Pass that connects Ambleside to Patterdale and inspired him to write 'thoughts and feelings of many walks in all weathers, by day and night'
Or they could stop at the Wishing Gate, an otherwise unremarkable wooden gate found on an old hillside road that links Grasmere and Ambleside, above Windermere, and which apparently prompted him to write a poem about it in 1828.
His poem about the dreamy view from the site celebrated the superstitious human habit of making wishes. A troubled visiting "worldling" in search of good luck, he wrote, "Might stop before this favoured scene, / At Nature's call, nor blush to lean /Upon the Wishing Gate …"
OK, so that was a bit high brow but Catherine Cookson's novels are not. So you can visit South Tyneside where she was based to better understand what inspired her. Or go to John Fowles's House in Lyme Regis which has just been bought and restored to its former glory by the Landmark Trust. Elizabeth Gaskell's house, near the centre of Manchester, is now a thriving museum. You can even rent the house that Ted Hughes was born in in Mytholmroyd.
Visiting the great Scottish bard, Rabbie Burns's place in Ayr will probably involve drinking in more than just the atmosphere, there'll probably be some whisky involved too.
London has attracted hundreds of authors and writers through the ages so there are streets full of writers' houses and museums to explore including Keats, Dickens, Thomas Carlyle and Dr Johnson to name just a few.
Whether high brow  or low brow, is clear that visiting a place where an author lived in or wrote about gives readers a greater insight into their work and helps them enjoy the books even more. It's a shame that Dr Seuss lived in Springfield, Massachusetts, in the United States.